Telling school about a Positive case of COVID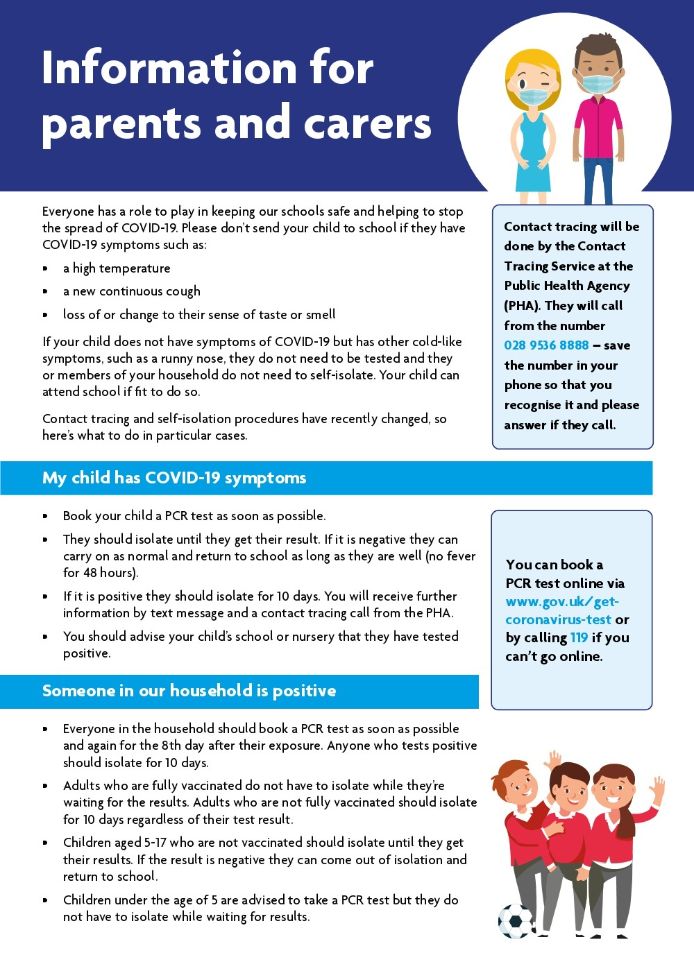 From Friday 10th September 2021, the PHA have taken over responsibility for the Tracking,Tracing & notification of close contacts of a positive case of Covid.
A pupil can become a Close Contact when:
(a) they live in the same home as a parent or sibling who tests positive for covid; and/or
(b) a parent is contacted by the PHA and told their child is a Close Contact
When a child becomes a Close Contact parents should make school aware and enable it to take any appropriate actions that may be necessary.
Parents can let school know by:
Remember the main symptoms of coronavirus (COVID-19) are:
a high temperature – this means you feel hot to touch on your chest or back (you do not need to measure your temperature)
a new, continuous cough – this means coughing a lot for more than an hour, or 3 or more coughing episodes in 24 hours (if you usually have a cough, it may be worse than usual)
a loss or change to your sense of smell or taste – this means you've noticed you cannot smell or taste anything, or things smell or taste different to normal
Children who are sick should never be sent in to school.
"If in doubt, keep them out & observe for 48 hours."
I've been told my child is a CLOSE CONTACT of a CONFIRMED case of COVID
Cregagh Primary School, Mount Merrion Avenue, Belfast BT6 OFL | Phone: 028 9040 1246